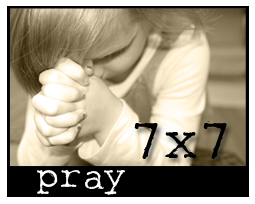 So yesterday I was reading Angie Smith's blog,
Bring the Rain
, and she had a great idea. She had looked up scripture to pray over her children at various times of the day. I really like to pray scripture. Something about repeating God's words back to Him make me feel like I can't mess it up, ya know?
Anyway, she posted the seven verses so that others could copy them and use them to pray over their children every day for seven days---see, 7X7. A kind of challenge, if you will. Well, at the least it was an encouragment.
And I took it! I typed up the scripture and taped them up around the house. For example, the one to pray when they are eating is taped to the pantry door. And the one to pray when they leave the house is on the back door. And so on.