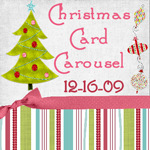 I'm participating in Faith's Christmas Card Carousel today.  I LOVE Christmas cards.  It's so nice to get something in the mailbox besides bills and junk! 
Let me apologize in advance for the quality of my picture of our card.  I took a dozen pics of it and couldn't get it to focus well at all!
Believe it or not, this one was the best one, even with the glare from the flash!
It says:
"Joy to the world!  The Lord is come!  May your heart be filled with the JOY of knowing Jesus came to the world for YOU!!
Merry Christmas from The Bridges"
Head on over to Faith's to see more cards!
Merry Christmas!!!