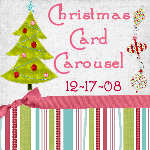 I'm joining my friend
Faith's partay
today. I, too, love getting Christmas cards this time of year. Some people are so creative! I like to see how my friends' families have grown or read about what they've been up to.
When we went to the mountains this fall, someone took a picture of all of us. After I saw it I told Daniel we needed to use it for our Christmas card. So we added a few more and this is what I came up with:
Go on over to Faith's to find the links to other fun Christmas cards.
Merry Christmas!!!